WIN: NEW KIDS ON THE BLOCK Mixtape Tour 2022 Tickets!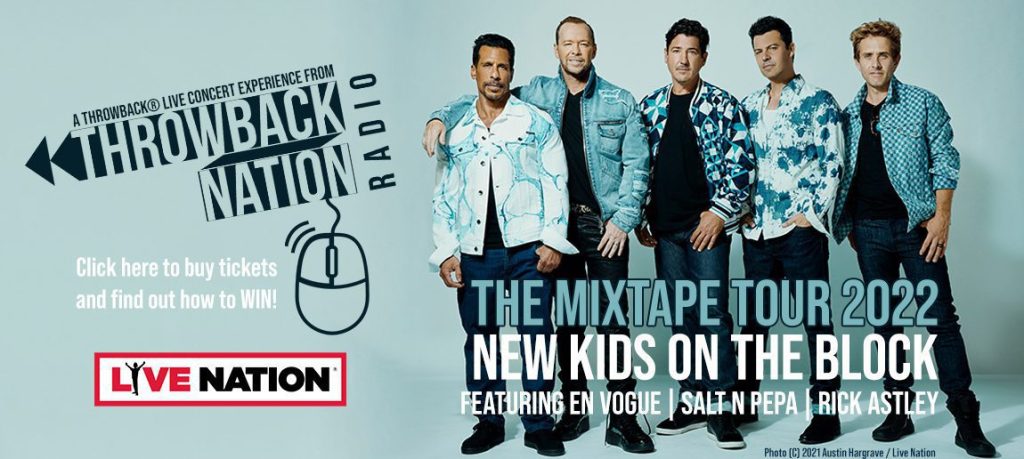 It's the concert you've had on your bucket list… before we even USED the term "bucket list!"
New Kids On The Block, with special guests En Vogue, Salt 'N Pepa, and RICK ASTLEY (no rick rolling), are heading out for a huuuuuuuuuuuuge Spring and Summer on the 2022 Mixtape Tour, and YOU deserve to be there – at ANY CONCERT you want to be at!
To win, listen to Throwback Nation Radio each night at the start of the show, beginning Monday, January 10th, through Sunday, January 30th.  We'll read a special text code word for you to text back to 877-909-1989.  (Standard message and data rates apply, please don't text and drive.)  By texting, you'll be immediately entered to win four tickets to ANY of their shows across the United States, from Throwback Nation Radio and Live Nation Entertainment.  We'll draw for a grand prize winner the first week of February.
Don't wanna wait?  Head here and pick the ticket packages you want now, before they sell out.  Because you know they will.  It's everyone else's bucket list concert too!
Good luck, and hopefully you and YOUR friends can check this Throwback live concert experience off your bucket list with us, on Throwback Nation Radio!
(Please note: transportation costs are not included.  We suggest you pick a concert date closest to you.  If you want to travel elsewhere, Throwback Brands is not responsible for airfare, hotel, or other travel costs.)
Throwback Live Contest/Throwback Nation: The Mixtape Tour –  Contest Material Terms
NO PURCHASE NECESSARY TO ENTER OR WIN.  Only residents of the United States who are 18 years of age or older at time of winning are eligible to enter and win.  Starting Monday January, 10, 2022, through Sunday, January 30, 2022 (the "Contesting Period"), the on air host will announce on the air a text code at the beginning of each show and listeners will be invited to text their response to 1-877-909-1989 (each such on-air contest solicitation is a, "Contest Play").  All text responses for a particular Contest Play must be received no later than 4:59am the following day.  All correct answers (as determined in the Contest Administrator's sole discretion) from each Contest Play during the Contesting Period will be placed into one (1) random drawing to win four (4) tickets to the date of their choice on "The Mixtape Tour 2022" starring New Kids On The Block, En Vogue, Salt N Pepa, and Rick Astley, presented by Live Nation Entertainment, valued at $400.00.  Grand prize drawing will take place soon after the conclusion of the Contesting Period. The grand prize does not include transportation, airfare, or lodging accommodations.  It is the sole responsibility of the contest winner to furnish transportation, airfare, or lodging accommodations should they choose to pick tickets to a concert in an area outside of their immediate home. Odds of winning depend upon how many entries received.  Entrants may receive a bounce-back text from Throwback with confirmation of Contest entry, but Entrants will receive no "extra" offers, information, or message content.  Contest Administrator does not charge a fee for this service.  Contest Administrator assumes no responsibility for charges incurred for text-messaging, including, without limitation, as a result of any bounce back messages or Contest notices from the Contest Administrator.  Standard message and data rates may apply, the frequency of any automated marketing message(s) individual opts in to receive are recurring and varies, text STOP to cancel, and terms are available at https://www.zipwhip.com/terms/.  Employees, contractors, and consultants of affiliate stations, Lorino Communications LLC, and Live Nation Entertainment are not eligible to win.  Except if inconsistent with these rules, the Throwback Nation Radio's contest rules apply and can be found at: https://throwbacknationradio.com/contest-rules/. Lorino Communications, LLC is the Contest Administrator of the Contest.