For years, I've watched iconic artists announce that "this tour would be there last."
For many, it did end up being their last before they retired.  But for others (CHER), a Farewell tour leads to another (CHER), and another (CHER), and seemingly MORE STILL (CHER).  That's why you have to admire the tongue-in-cheek style in which Phil Collins, Mike Rutherford, and Tony Banks announced the North American leg of their tour, calling it "THE LAST DOMINO?" tour.
Yes, the question mark is purposeful. 🙂  It's a little like Phil's last solo tour, "Not Dead Yet."
While there are quite a few dates in the Midwest and Northeast, the Southeast and West Coast aren't listed yet, which likely means there is a second leg of this tour to be coming after the holidays.  We'll keep our eyes peeled and keep you posted as we hear more at Throwback Nation Radio.  But until then, here's to a good sense of humor, Genesis, and here's to seeing you out and about sometime soon.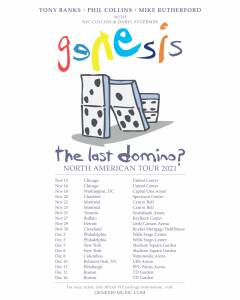 (Photo Courtesy of Genesis' twitter feed.)