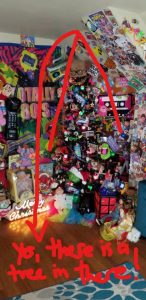 Because we LOVE our '80s at Throwback Nation Radio, I had a friend text me about an '80s-themed tree that went above, and beyond, and then some that I just HAD to see!
The owner is Eva Welch of Milwaukee, WI, who loves the '80s just like us… and she went ALL OUT to find the best forgotten '80s toys of all time.
We got a chance to catch up with Eva herself, and she offers a few fun ideas if you'd like to make an '80s tree of your own!