Her career started on The Mickey Mouse Club, and accelerated quickly when she recorded a song for the "Mulan" soundtrack in 1998.  And once "Genie In A Bottle" hit in 1999, all bets were off: Christina Aguilera was a STAR.  From her journey throughout the 2000s into another dose of stardom as a judge on "The Voice," Christina Aguilera has been a huge presence in pop culture.
But Christina isn't JUST a pop culture presence: she's also a huge presence on the sidelines as a sports fan!  Christina grew up in Pittsburgh and has continued showing her love for sports teams across the country.
So who is she a top fan of?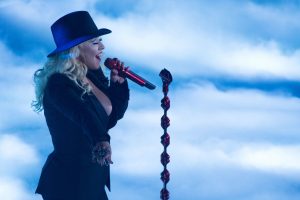 BASKETBALL – The Los Angeles Lakers
Christina performed at the NBA All Star Game in 2015, and also at Kobe Bryant's funeral in early 2020.  She's been spotted courtside at the Staples Center with plenty of other stars through the years.
HOCKEY – The Pittsburgh Penguins, duh!
When you're from Pittsburgh, you love three things: pierogies, Primanti Brothers sandwiches, and the PENGUINS!  Christina has sung the national anthem at several Penguins games through the years, including when she was just 11 years old!
BASEBALL – The Pirates…AND the Yankees.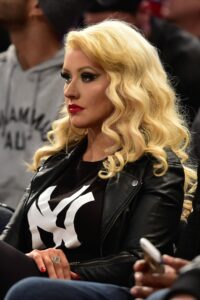 Yes, she's a Pirates fan being a native Pittsburgh-er, but she's not afraid to show her support of the New York Yankees too, like she did sitting in the stands at the New York-based NBA All Star Game in 2015.
FOOTBALL – All Steelers, all the way.
Although her moment in the sun singing the national anthem at the 2011 Super Bowl was overshadowed with a flub, and a loss for her hometown Steelers to Green Bay, she took it in stride.  She knew she messed up – did her best to keep her cool -and apologized for the flub.
Christina, we understand.  Mistakes happen; she owned up to it, now we move on.
Christina, HAPPY 40th!  On behalf of all of us at Throwback Nation Radio, thank you for being a positive light in the world with songs like "Beautiful" that encourage people to be themselves; a positive light to encourage future performers on "The Voice" and a positive persona overall!  We wish you a very happy birthday!