After the grunge movement of the 90s moved past its early Nirvana / Pearl Jam / Alice In Chains sound that defined the early half of the decade, the evolution of modern rock took on a much more pop-friendly sound toward the middle and the end of the decade.  And although the songs still featured heavy guitars, and a lot of the THEMES of the songs were still pretty dark, they had a happier, more major-chord oriented sound.  One of the bands helping to pioneer this sound: THIRD EYE BLIND.  And this week in 1997, they released their debut, self-titled album with massive hit songs like "Semi-Charmed Life," "Jumper," and "How's It Going To Be."
If you were in high school in this era, these songs were EVERYWHERE.  On TV, in the movies, and all over the radio.  And, in our case logics in our cars too.  The question was, though, WHICH CD did YOU HAVE?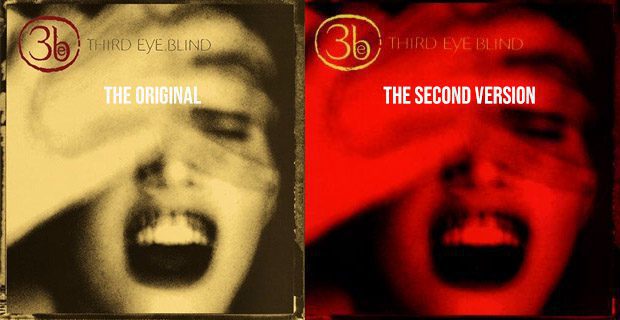 (Artwork (c) 1997, Third Eye Blind.  No copyright infringement intended.)
The first album cover was colored yellow with a bright red logomark of the band's name.  But, after the first 500,000 copies were released, the band's management FLIPPED the colors to better pop, artistically speaking.  Maybe it was the band's hits that were just starting to reach the masses – or maybe it was the artistry – but the album went 6x platinum, selling over 6 million total units, which is something to be TRULY celebrated.
So, if you're an early adopted – a TRUE 3EB'er – and have a copy of the yellow colored album, PROPS.  You were AHEAD of the rest of us.  And, if you're like me and didn't buy it until the red cover came out – NBD.  We're all a part of musical history with one of the biggest bands that helped turn "alternative" into mainstream in the '90s… regardless of the color.