The new Barbie movie is so popular, star Ryan Gosling's song "I'm Just Ken" debuted at #87 on the latest Billboard Hot 100 chart!
It's worth noting Gosling has charted before, with "City of Stars" from the movie La La Land in 2016.
Billboard has also pointed out that Gosling is the 15th cast member of the 'Mickey Mouse Club' to hit the Hot 100!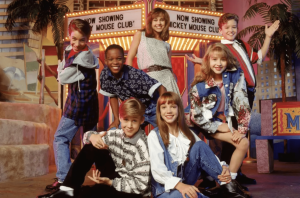 Check out this photo from 'The All New Mickey Mouse Club' – who do you recognize???
Cast members clockwise from upper center: Nikki DeLoach, Justin Timberlake, Christina Aguilera, Britney Spears, Ryan Gosling, T.J. Fantini, Tate Lynche.
Gosling was 13 in this picture. He starred in the show's final two seasons, 1992-1994.
Disney has produced four separate iterations of the Mickey Mouse show franchise. The original series, The Mickey Mouse Club, aired in 1955-59, followed by The New Mickey Mouse Club from 1977-79, The All-New Mickey Mouse Club from 1989-94 and Club Mickey Mouse on Facebook and Instagram from 2017-18.