Donnie Wahlberg from New Kids on the Block is 54 today, and he's sharing some of his hard-earned wisdom with fans!
He recently shared a reel to his Instagram page, where he's nodding along while audio from Children's Pastor Elijah Zielke plays: "There is one phrase in the Bible that is repeated 365 times. Do you know what it is? 'Do not be afraid.'"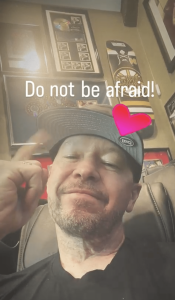 In the caption, Wahlberg opens up about his own struggles. "To whomever is struggling with fear today, I know a 15 second reel may not change your life. I also know that it's not easy to live without fear, worry or anxiety. It's something that I've worked on, and continue to work on, every single day since I was an anxiety riddled little kid. That said, if this reel can give you a little boost, a little bit of hope or even ease your worry for a brief 15 seconds — then it's worth me sharing! Hang in there! You will make it through — you always do! Sending love your way. #thankfulthursday 🤖❤️♾💫✨🤟🏼 🙏🏼❤️💫"
The post hit the right note with fans who thanked him for being so open, and many shared their own struggles with anxiety.
Wahlberg is currently touring with his New Kids bandmates. He was supposed to start shooting the new season of his TV show "Blue Bloods" but production is on hold due to the writers' and actors' strikes.
Happy 54th birthday, Donnie Wahlberg!